The Peterson Conservatory has been instrumental in preserving excellence in the arts in northwest Washington for decades. Instruction in all orchestral, band, and jazz instruments takes place at the Conservatory building in Mt. Vernon and in schools in the area. The Starry Night Chamber Orchestra, made up of Conservatory faculty and other outstanding local and guest performers, brings joy and beauty to the entire state.
The Lynden Choral Society and the Starry Night Chamber Orchestra perform Handel's Messiah
December 2, 7:00 pm (note time change), and Dec 3, 2:00 pm, 3rd Christian Reformed Church, Lynden, WA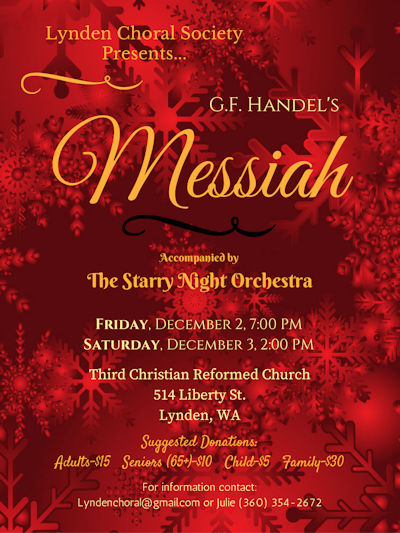 Drama Workshop in December
Being Heard; the fundamentals of projection
December 7th, 6PM-8PM at Trinity Anglican Church, adjoining the music conservatory in Downtown Mount Vernon.
There are no small roles and every line is important so make sure they can hear you! In this vocal workshop we will be working on making sure your voice rises above the rest and that the back row can hear you. We will be focusing on volume, quality and protection of the voice in theater. We may be focusing on the voice, but we will be moving so make sure to dress in clothes that will move with you.
We ask for a suggested donation of $5 per participant, due to building-use costs.