The Peterson Conservatory has been instrumental in preserving excellence in the arts in northwest Washington for decades. Instruction in all orchestral, band, and jazz instruments takes place at the Conservatory building in Mt. Vernon and in schools in the area. The Starry Night Chamber Orchestra, made up of Conservatory faculty and other outstanding local and guest performers, brings joy and beauty to the entire state.

July 7-14, 2015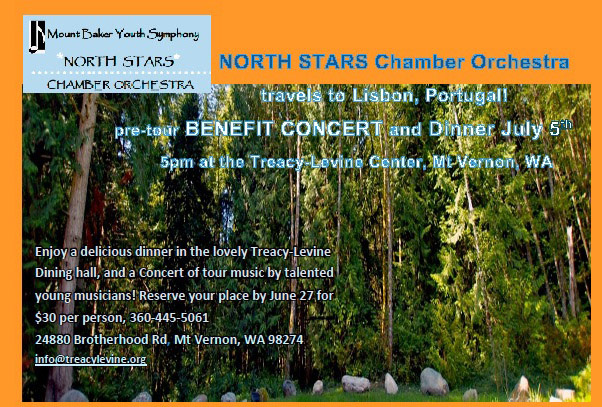 The Mt Baker and Fidalgo Youth Symphonies have been invited to participate in the Lisbon International Youth Music Festival: seven days of touring and performing in Lisbon, Portugal, with Directors and members of Mt Baker and Fidalgo Youth Symphonies. For strings, woodwinds, and brass, ages 13-20. Managed by Peterson Conservatory of Music and Arts. Professional instructors work daily with student ensemble to impart skills including intonation, tone production, musical interpretation, and specialized style techniques. Accommodations, breakfast, transportation, touring, are all provided. Tuition cost: $2700 per person. Fundraisers are planned!
Email Sharyn Peterson NOW if you are interested:
To register as a participant or chaperone, please print out the registration form and send it to PCMA, PO Box 1702, Mt Vernon, WA, 98273, with your registration deposit of $250 per person. Make check out to PCMA, since Peterson Conservatory is administering the finances. Write on your check: "For Lisbon Tour". DON'T MISS THIS AMAZING OPPORTUNITY!